North Haven Smiles That Last A Lifetime
Missing teeth have a great impact on various aspects of daily life. From enjoying the foods you love to smiling with confidence; having a full set of teeth is essential in living a happier life. Whether it be one or many missing teeth, our dentists here in North Haven are passionate about helping you improve your overall quality of life. They do this by helping you regain a fully funtional smile. When it comes to the durability, esthetics, and longevity of your teeth, there is no better option than dental implants.
Why Are Implants The Best Option For Replacing Missing Teeth?
Unlike other tooth replacement options such as dentures and crowns, implants are designed to replicated the entire structure of a tooth both above and below the gums. This means that the top part of the tooth above the gums is not just adhered to an underlying structure with cement; instead, it is actually integrated into the underlying bone tissue just like a natural tooth. With dental implants, patients can enjoy a tooth replacement that is structurally, functionally, and esthetically identical to a natural tooth.
Types of Implants Offered at Gargano Family Dentistry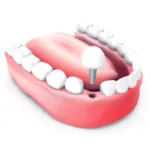 Single-Tooth Implant - Used to replace a single missing tooth. These are comprised of the titanium implant, abutment, and custom designed dental crown.
Implant Bridge - Comprised of two, or more implants as well as a customized dental bridge, this procedure is used to replace several consecutive missing teeth.
Implant-Retained Denture - Offers an extraordinarily better alternative to traditional full dentures. Our doctors will work closely with trusted surgical specialists who will strategically place 4-6 implants. Dr. Gargano will then design a custom made denture that is fixed to the top of the implants to complete your smile.
Overdenture - Similar to an implant-retained denture, overdentures are designed to replace the full upper or lower arch of teeth. However, the overdenture is designed to be removable so that the patient can enjoy the familiar convenience of a traditional denture. Overdentures are much more stable than traditional dentures which makes it a great option for those who oftentimes struggle with loose or irritating traditional dentures.
---
The extent of tooth loss greatly determines which type of implant may suit you best. Dr. Joe and Dr. Ted Gargano are alway happy to work with you in providing free consultation. These consults will help you and the dentist determine which course of action is best. If you would like to know more about your options, give our office a call to schedule your free consult.