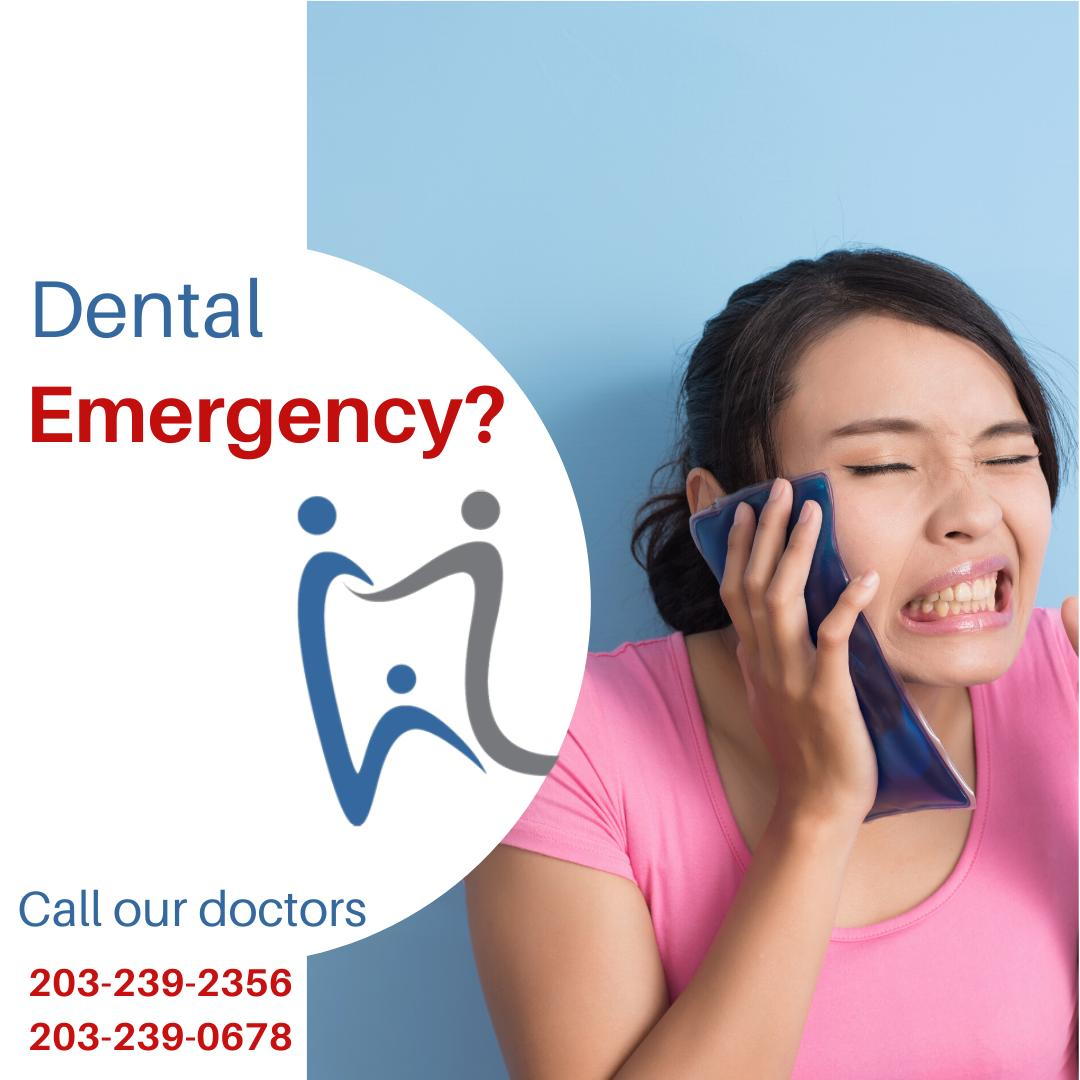 If you are experiencing a dental issue, you may have questions about whether or not you should visit your dentist during the Covid-19 pandemic. This post is to help you differentiate whether or not you are experiencing a dental emergency and what you can do at home to ease discomfort.
After reading these guidelines, you may determine that you need to see a dentist. Please 
Contact Us
 by e-mail or call 
203-239-2356
/
 203-239-0678
 so that your issue can be resolved as soon as possible.
Dental Emergency Symptoms
Uncontrolled bleeding (does not stop after 20 minutes of applied pressure)

Facial swelling extending to the eye or neck

Toothache that is preventing sleep

Severely broken tooth resulting in pain

Tooth fallen out with pain

Facial injuries resulting in dislocation or discomfort in jaw

Pain or severe swelling in gums

Denture adjustment for patients receiving cancer treatment

Presence of abnormal tissue causing pain and swelling
Dental Visits You Should Reschedule For Later Date 
Regular check-ups and cleanings

Loose / lost: crowns, bridges, veneers

Bleeding gums without pain or swelling 

Chipped teeth without pain

Cavities that aren't causing pain

Loose teeth that aren't painful
At-home Pain Management
Minor oral pain, swelling and discomfort can be controlled by following the at-home protocols: 
 Over-the-counter pain killers: ibuprofen or acetaminophen. Take according to instructions on package. Patients with fever-like symptoms or Covid-like symptoms should take acetaminophen in preference to ibuprofen.

Soft diet (yogurt, smoothies, oatmeal, etc.)

0.2% Chlorhexadine mouth rinse
Tooth Sensitivity
For managing tooth sensitivity at-home the following products can be found online or at your nearest pharmacy:
*Use each product according to instructions on package*
All of us at Gargano Family Dentistry wish you and your family safety & good health throughout these difficult times.
For emergencies, please 

give us a call

 at our North Haven office: 203-239-2356 or 203-239-0678.